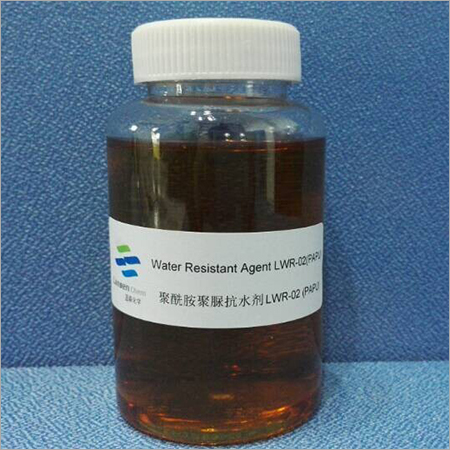 Water Resistant Agent LWR 02
Product Code : 16
Product Description
Our water resistant agent LWR 02 is a high-impact less-formaldehyde polyamide polyurea fluid safe substance. It is appropriate for covering of various sorts of paper, it can expand the water impedance of the covered paper significantly, can enhance the wet friction impedance, damp strength resistance, diminish the losing of powder or fiber, enhance the ink assimilation quality of paper, the printability and in addition, expand the paper shininess. The water resistant agent, which is our offered range can be utilized to supplant the melamine formaldehyde sap water safe substance that is typicallt utilized as a part of the paper plant, the dose caries from 1/3 to 1/2 of melamine formaldehyde sap.
Indispensable Features:
Our product can be utilized as a part of the entire latex system or the covering that contains starch

It possesses solid cross link, quick treating time as well as the covering have great water impedance

This can enhance the damp scraped resistivity of paper and can enhance the paper printability incredibly

It can build the polish of the paper

Our range has great resistance of rankling

The measurements is low and simple for operation
Details:


| | |
| --- | --- |
| Visual Aspect of our product | Yellow translucent or bright yellow fluid |
| Hard content % | 50.0± 1.0 |
| Dynamic thickness | 100 mpas max. |
| PH | 6-8 |
| Dissolvability | Completely soluble in water |
| Ionicity | cationic |
Uses:
Only 05-0.6% amount of the dry paint can be appended after or before bonding agent
Information About Packing And Storage:
It is suggested to kept our range in well ventilated, cool and dry place to avert it to come in contact with direct daylight and from freezing.

The shelf and usability life of it is 6 months.

Our customers will obtain our water resistant agent LWR 02 in pack of 1000kg/IBC or 250kg/drum.
Specifications:
| | |
| --- | --- |
| Item | Index |
| Appearance | light yellow or yellow transparent liquid |
| solid content % | 50.0±1.0 |
| Dynamic viscosity | 100 mpas max. |
| PH | 6-8 |
| Solubility | Completely soluble in water |
| Ionicity | cationic |
Contact Us
Head Office : Rm No. 1502, Yixing International Economic & Trade Building, 21 West Jiaoyu Road, Yixing, Jiangsu Sheng, 214200, China