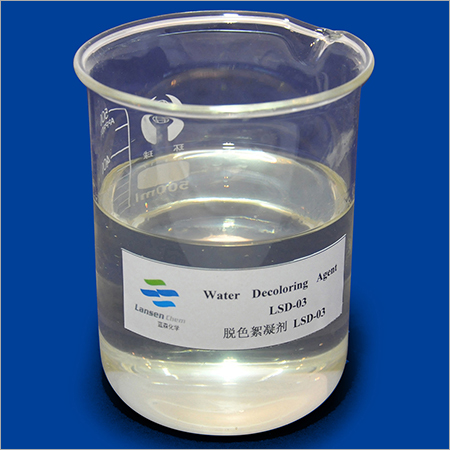 Water Decoloring Agent LSD 03
Product Code : 26
Product Description
Water Decoloring Agent LSD 03 is a dicyandiamide based cationic polymer which is used in color pigment manufacturing plants, paper processing, and paint formulating industries. It is used to treat wastewater that contains activated compounds, & dispersed dyestuffs. This agent has the ability to remove complex organic compounds from flocculation and sedimentation of particles. Water Decoloring Agent LSD 03 is a cationic compound having colorless to light yellow viscous liquid with a pH range of 3-5. When COD level of water is high, it is generally used in combination of poly aluminum chloride.
Features:
Non flammable nature

Stored between temperature range of 5 to 30 degree Celsius

Water soluble
Further Details:
CAS Number: 55295-98-2
Trade name: LSD-01 / LSD-03 /lsd-07Decoloring Agent
Chemical name: PolyDCD; Dicyandiamide formaldehyde resin
Features & Applications:
Water Decoloring Agent is a quaternary ammonium cationic copolymer, it's dicyandiamide
formaldehyde resin. it has excellent efficiency in decoloring, flocculating and COD
removal.
1. The product is mainly used to decolor the effluent with high colority from dyestuff plant.
It is suitable to treat waste water with activated, acidic and disperse dyestuffs.
2. It can also be used to treat waste water from textile industry and dye houses, pigment
industry, printing ink industry and paper industry.
3. It also can be used in the production process of paper& pulp as retention agent
Specifications:


| | |
| --- | --- |
| Appearance | Light yellow or yellow sticky liquid |
| Solid Content | ≥50.0 |
| Viscosity(mpa.s 20) | 5-500 |
| PH(30% water solution) | 2.0-5.0 |
Concentration and viscosity of solution can be customized according to customers needs.
Contact Us
Head Office : Rm No. 1502, Yixing International Economic & Trade Building, 21 West Jiaoyu Road, Yixing, Jiangsu Sheng, 214200, China