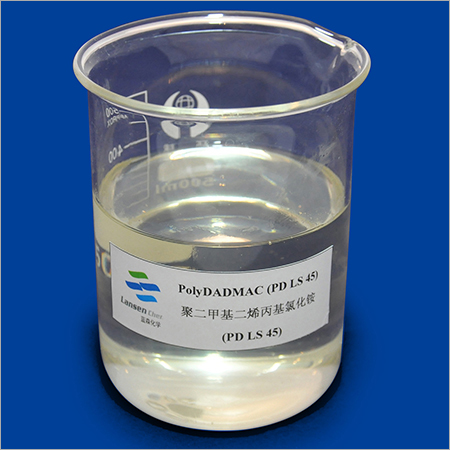 Polydadmac Polymer Flocculant
Product Code : 37
Product Description
Polydadmac Polymer Flocculant is a homopolymer of diallyldimethylammonium chloride which finds its application in effluent treatment plants. It is used after coagulation of heavy solid particles during wastewater treatment for bridging destabilized colloids to form flocs. This is a long monomeric chain unit having high molecular weight. Polydadmac Polymer Flocculant works on the principle of ionic charges present on the surface of suspended particles that are clumped together for easy removal. It is synthesized by radical polymerization of DADMAC with an organic catalyst.
Features:
Has high charge density

Appears as neutral to pale yellowish fluid

It is cationic in nature
CAS Number: 26062-79-3
Chemical name: Poly-diallyl dimethyl ammonium chloride
Features and Applications:
Specifications:


| | |
| --- | --- |
| Appearance | Neutral to Pale Brownish-yellow Fluid, Free from External Matter |
| Solid Content (120℃,2h) % | 19.0-21.0 |
| Viscosity (25℃) | 2500-5000 |
| PH | 5.0-8.0 |
Concentration and viscosity of solution can be customized according to customers' needs.
Package and Storage:
The product is packed 210kg net in plastic drum or 1100kg net in IBC.
Shelf life: 24 months
Contact Us
Head Office : Rm No. 1502, Yixing International Economic & Trade Building, 21 West Jiaoyu Road, Yixing, Jiangsu Sheng, 214200, China