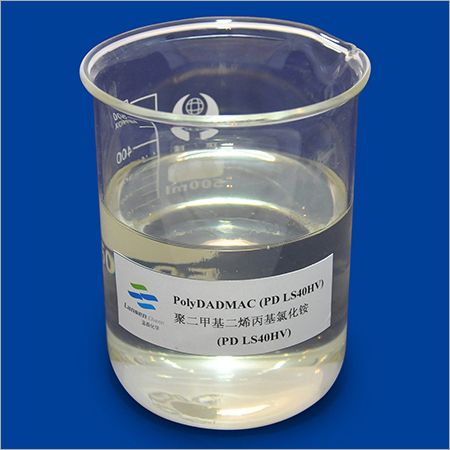 PolyDadmac (PD LS 40HV)
Product Code : 35
Product Description
PolyDadmac (PD LS 40HV) is a colorless to pale yellow viscous liquid that is used for flocculation of inorganic & organic compounds including slit, clay, & algae. It is formulated by reacting allyl chloride with dimethylamine and then further radical polymerization of resulting compound. This agent is a cationic polymer with pH range of 4-5 having shelf life of about 12 months. PolyDadmac (PD LS 40HV) finds its utilization in wastewater treatment, mining & mineral processing, and a fixing agent in textile industry.
Features:
Act as anionic trash catcher

Can also be applied as a conditioning & antistatic agent

Has algaecide property
Further Details:

CAS Number: 26062-79-3
Chemical name: Poly-diallyl dimethyl ammonium chloride
Specifications:


| | |
| --- | --- |
| Appearance | Neutral to Pale Brownish-yellow Fluid, Free from External Matter |
| Solid Content (120,2h) % | 39-41 |
| Viscosity (25) | 150000 |
| PH | 5.0-8.0 |
Concentration and viscosity of solution can be customized according to customers needs.
Package and Storage:
The product is packed 210kg net in plastic drum or 1100kg net in IBC.
Shelf life: 24 months
Contact Us
Head Office : Rm No. 1502, Yixing International Economic & Trade Building, 21 West Jiaoyu Road, Yixing, Jiangsu Sheng, 214200, China