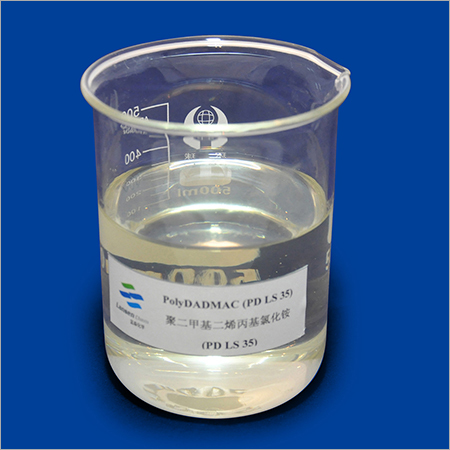 PolyDadmac (PD LS 35)
Product Code : 34
Product Description
PolyDadmac (PD LS 35) possesses good flocculating, decoloring, and algaecide properties. It is also effective in removing unwanted organic compounds from the suspension. Abbreviated for polydimethyl dialkelene ammonium chloride, this compound is a cationic polymer having activated adsorbent radicals that can destabilize negatively charged suspended particles in water. PolyDadmac (PD LS 35) works on the principle of electro neutralization and bridging adsorption of soluble matters, which is also used for the treatment of source and sewage water.
Features:
Odorless & harmless nature

Initiates rapid precipitation

Leaves low turbidity residue
Further Details:

CAS Number: 26062-79-3
Chemical name: Poly-diallyl dimethyl ammonium chloride
Specifications:


| | |
| --- | --- |
| Appearance | Neutral to Pale Brownish-yellow Fluid, Free from External Matter |
| Solid Content (120,2h) % | 34-36 |
| Viscosity (25) | 200-1000 |
| PH | 5.0-8.0 |
Concentration and viscosity of solution can be customized according to customers needs.
Package and Storage:
The product is packed 210kg net in plastic drum or 1100kg net in IBC.
Shelf life: 24 months
Contact Us
Head Office : Rm No. 1502, Yixing International Economic & Trade Building, 21 West Jiaoyu Road, Yixing, Jiangsu Sheng, 214200, China