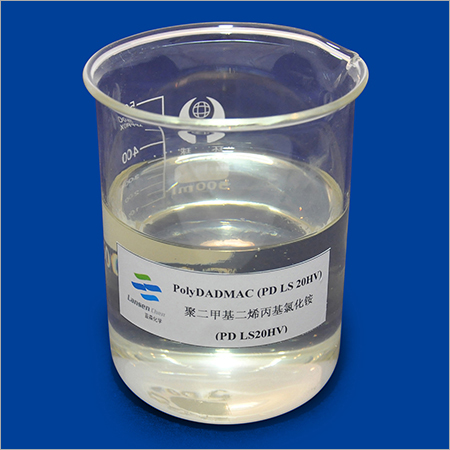 PolyDadmac (PD LS 20HV)
Product Code : 32
Product Description
CAS Number: 26062-79-3
Poly-diallyl dimethyl ammonium chloride is the chemical name of our product.
Usages and Characteristics:
Our PolyDADMAC is a ionic quartet ammonia polymer which is totally disintegrated in water, it comprises solid cationic innate and actuated adsorbent radical that can flocculate and destabilize the eliminated solids as well as the adverse-charged water solvent substances in the effluent via spanning adsorption and electro-balance. PolyDADMAC accomplishes great outcomes in flocculating, killing algae, eliminating organics and de-coloring. It can be utilized as decoloring agent, dewatering agent and flocculating agent for raw water and effluent treatment, drinking water, dyeing trade and fungicide for clothes printing, antistatic, color fixing agent, softening agent and conditioner. Besides, it can additionally be utilized as surface dynamic agent in chemical businesses.
Specifications:


| | |
| --- | --- |
| Appearance | ---- |
| Solid Content (120℃,2h) % | 19.0-21.0 |
| Viscosity (25℃) | 1000-2000 |
| PH | 5.0-8.0 |
Solution and thickness of it can be personalized in compliance with the demands of customers.
Package and Storage:
The product is packed 210kg net in plastic drum or 1100kg net in IBC.
Shelf life: 24 months
Contact Us
Head Office : Rm No. 1502, Yixing International Economic & Trade Building, 21 West Jiaoyu Road, Yixing, Jiangsu Sheng, 214200, China