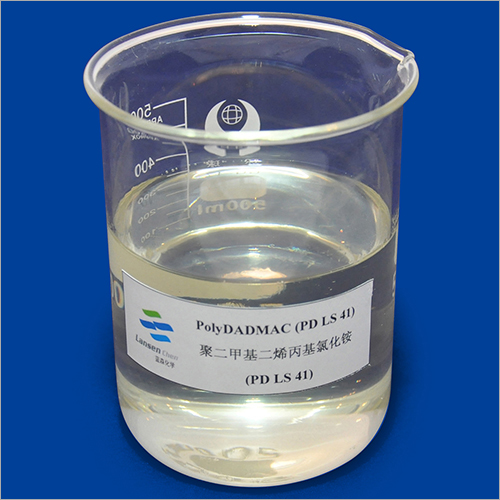 Polydadmac
Product Code : PD LS41
Product Description
Commonly known as Polyquaternium-6, PolyDadmac is a homopolymer of diallyldimethylammonium chloride. It used as a liquid concentrate for solid particles that can be synthesized by radical polymerization of DADMAC using organic peroxide as a catalyst. This compound finds its utilization for effluent treatment, pulp & paper industry, and water purification purposes. PolyDadmac is preferred over organic coagulants as it reduces more volume of sludge in their comparison. It is a cationic polymer having high charge density that binds to negatively charged molecules in water.
Features:
Highly soluble in water

Enhances dewatering & retention during paper processing

Can flocculate bacteria & viruses
Further Details:

CAS Number: 26062-79-3
Trade name: PD LS 41/45/49/35/20
Chemical name: Poly-diallyl dimethyl ammonium chloride
Features and Applications:
It can be used as flocculating agent, decoloring agent and dewatering agent for drinking water, raw water and waste water treatment, fungicide for textile printing and dyeing trade, softening agent, antistatic, conditioner and color fixing agent. Moreover, it can also be used as surface active agent in chemical industries.
Specifications

Product code

PD LS 41

Appearance

Colorless to Pale Amber Liquid, Free from Foreign Matter

Solid content (120,2h) %

39-41

34-36

19.0-21.0

Viscosity (25)

1000-3000

PH

5.0-8.0
Concentration and viscosity of solution can be customized according to customers' needs.
Package and Storage:
The product is packed 210kg net in plastic drum or 1100kg net in IBC.
Shelf life: 24 months
Contact Us
Head Office : Rm No. 1502, Yixing International Economic & Trade Building, 21 West Jiaoyu Road, Yixing, Jiangsu Sheng, 214200, China