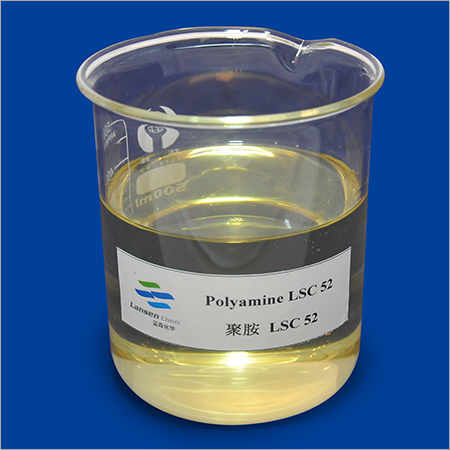 Polyamine LSC 52
Product Code : 47
Product Description
Polyamine LSC 52 is a cationic polymer which is used as a coagulant & neutralization agent in solid-liquid separation process in numerous industries. It is a low molecular weight organic compound having two or more amino groups. This chemical can also act as a chelating agent for dissolving metal ions in organic solvents. Polyamine LSC 52 is a light yellow colored viscous liquid having slightly acidic to neutral pH range of 5-7. It can also act as flocculant during wastewater treatment.
Features:
Attracts anions

Suitable to be stored at room temperature

Highly effective
| | |
| --- | --- |
| Appearance | light yellow thick liquid |
| Solid(110, 2h)% | 50± 1 |
| PH | 5-7 |
| Viscosity (25) | 200-500 |
Concentration and viscosity of solution can be customized according to customers needs.
Package and Storage:
210Kg net in plastic drum, or 1100kg/IBC.

Keep in room temperature.

Shelf life: 24 months.
Specifications:
| | |
| --- | --- |
| Product Code | LSC 52 |
| Appearance | light yellow viscous liquid |
| Solid(110, 2h)% | 50±1 |
| PH | 5-7 |
| Viscosity (25) | 200-500 |
Contact Us
Head Office : Rm No. 1502, Yixing International Economic & Trade Building, 21 West Jiaoyu Road, Yixing, Jiangsu Sheng, 214200, China