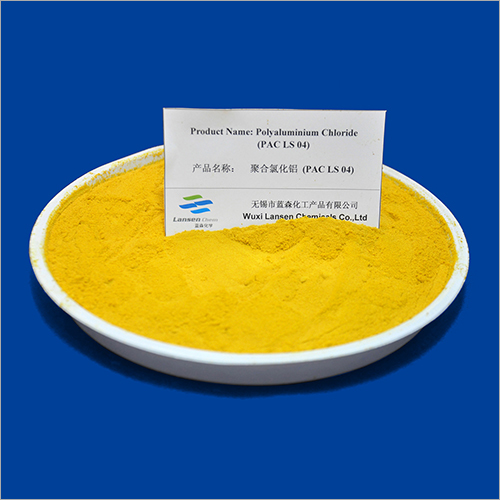 Polyaluminium Chloride
Product Code : PAC LS04
Product Description
Polyaluminium Chloride is used as a coagulant in wastewater treatment of ink, paint, paper, and textile manufacturing industries. It reduces the amount of sludge formation at both acidic & basic pH and also under low temperature conditions. This chemical is also suitable for purification of drinking water, in swimming pools, and effluent treatment plants. Polyaluminium Chloride can be formulated using aluminum sulfate, aluminum chloride, or aluminum hydroxide and reacting it with hydrochloric acid under ambient conditions.
Features:
Great particle removing property

Improves filter operation & durability

Versatile nature
Further Details:
CAS Number: 1327-41-9
Chemical name: Polyaluminium Chloride
Features and Applications:
This product is a new-type inorganic macromolecule coagulant with high efficiency. It is widely used in the drinking water, industrial water purification, industrial effluent municipal sewage treatment.
It can lead to quick formation of flock with big size and rapid precipitation.
It has wide-range adaptability to the waters at different temperatures and a good solubility.

The product is slightly corrosive and suitable for the automatic dosing and convenient for operation.
Specifications:
Drying method

Appearance

Al2O3 %

Basicity

Insoluble Substance %

PAC LS 01

Spray dry

White or pale yellow powder

29.0

40.0-60.0

0.6

PAC LSH 02

Light yellow or yellow powder

30.0

60.0-85.0

PAC LS 03

29.0

PAC LSH 03

28.0

PAC LS 04

28.0

1.5

PAC LD 01

Drum dry

Yellow to brown powder

29.0

80.0-95.0

1.0
Application Method and Notes:
Dilution is necessary before dosing for the solid product. The normal dilution ratio for the solid product is 2%-20% (based on weight percentage).
The specific dosage is based on the flocculation tests and trials by the users.
Package and storage:
The product is packed in 25kg woven bag with inner plastic bag.
The product should be stored in a dry and ventilated place.
shelf life: 12 months
Contact Us
Head Office : Rm No. 1502, Yixing International Economic & Trade Building, 21 West Jiaoyu Road, Yixing, Jiangsu Sheng, 214200, China