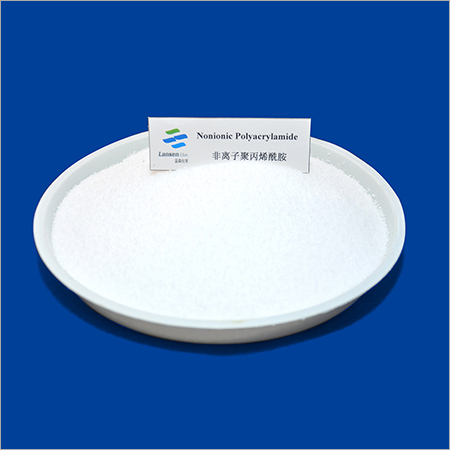 Nonionic Polyacrylamide
Product Code : 53
Product Description
Nonionic Polyacrylamide is highly effective for treating strongly acidic wastewater. It is also used as textile pulp, paper chemical, and water shutoff agent. This compound can be synthesized using N-N methylenebisacrylamide to get a linear chain or cross linked structure. It can also be used as a sludge thickening & suspending agent during wastewater treatment. Another use of Nonionic Polyacrylamide is in subsurface applications including enhanced oil recovery. Minimal effects on its flocculation property can be seen in presence of salts & changing pH due to nonionic functional group.
Features:
Has a wide pH range of 3-10

Water soluble nature

Hydrated form of polyacrylamide is also used in gel electrophoresis
Further Details:

CAS NO.: 9003-05-8
Technical Details:
Product Type

Product Code

Molecular

Hydrolysis Degree

Nonionic Polyacrylamide

N801

Medium

Low

N802

Low

Low
Package and storage:
The powder is packed by airtight paper-plastic composite bag, and 25 KG each bag, or it can also be put according to buyer's requirement. It can easily absorb moisture and become the block matter, thus it should be kept in dry, cool and ventilation place.
Shelf life:24 months
Contact Us
Head Office : Rm No. 1502, Yixing International Economic & Trade Building, 21 West Jiaoyu Road, Yixing, Jiangsu Sheng, 214200, China