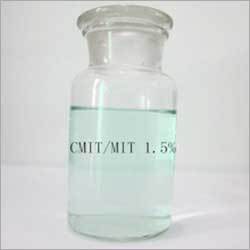 Isothiazolinones Biocide
Product Code : 17
Product Description
We are growing as one of the leading manufacturers and suppliers of Isothiazolinones Biocide. It possesses strong antimicrobial properties against wide range of bacteria, fungi, and algae. This compound is used for cleaning cooling water, pulp & paper, & oil extraction systems, and fuel storage tanks. It is known to have the chemical formula C3H3NOS with molar mass of 101.127 g/mol. Isothiazolinones Biocide appears as light blue colored transparent liquid with pH range of 2-5.
Features:
Also acts as wood preservation and antifouling agent

It is a heterocyclic compound

Does not pollute environment
Biocides Isothiazolinones
Specifications
Item

Description

Model

CMIT/MIT 1.5%

Active components

5-chloro-2-mehtyl-4-isothiazolin-3-one (CMIT)

2-methyl-4-isothiazolin-3-one (MIT)

Application

Generic biocide for any diluted form

Appearance

Light blue or blue-green transparent liquid

Content of Active Substance (%)

≥1.5

Rate of Chlorine

2.5 to 3.5

pH value

2.0 to 5.0

Density (g/ml)

1.02 to 1.05
Application field
It is a widely used chemical that forms an integral part in paints, cosmetics, inks, dyes, water-based polymer, metal cutting fluids, adhesives, and paraffin liquid industries. It is also used in the process of water treatment in the industries of petrochemicals, central air conditioning, electricity and industrial cooling water. It can efficiently strerilize and remove algae.
Performance characteristics
Using a small amount of isothiazolinones-biocide, many fungi, yeasts and bacterial can be killed.
The suitable pH value for use ranges between 2 to 9; free of divalent salt and cross-link no emulsion.
This easy to use chemical is miscible with water and can be added in any production step.
This chemical with low toxicity must be used in an appropriate concentration, so as to ensure no harm completely.
It causes no residue after discharge, and no pollution to the environment.
This non combustible chemical can be conveniently transported and used.
It is compatible with surfactants, emulsifiers and protein-contained agents.
It has an excellent effect on pseudomonas.
It doesn't contain any formaldehyde and VOC.
Usage and Cautions

When using it for treating water, dilute it into a 1.5% aqueous solution and then add this solution at a quantity of 80 to 100 ppm for one or two times every week, based on the multiplication of bacteria, algae and other micro organisms.
Users must avoid direct eyes' contact with this solution. If case of contact, rinse eyes with water immediately. Long-term contact of this chemical with skin is harmful.
Contact of this chemical with reducible metals, like iron and aluminum is not allowed during storage, as it can result in decomposition.
This chemical has poor stability, therefore, it is not recommended for use in the alkaline medium of pH> 9.0. Quality of a product can decline if one combines it with highly nucleophilic chemicals, like S2- and R-NH2.
Packaging
250 kg per drum or 1. 000 kg per IBC drum

Storage and Transportation

It must be stored at dark place at room temperature in a dark place safely for one year.
Contact Us
Head Office : Rm No. 1502, Yixing International Economic & Trade Building, 21 West Jiaoyu Road, Yixing, Jiangsu Sheng, 214200, China