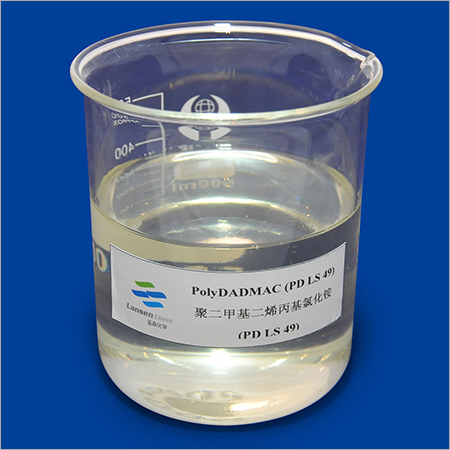 Ecuador Polydadmac
Product Code : 38
Product Description
Ecuador Polydadmac is a water soluble liquid having positively charged ions with high efficiency. It is utilized as a decolorant for syrups in sugar mills, wastewater generated by textile, dye processing, and paper & pulp industries. For its use in water purification, this compound can be blended with inorganic polymers including aluminum chlorohydrate. Ecuador Polydadmac can provide different effects including flocculation, purification, electric neutralization, adsorption, and decoloration. It also finds its application for treating clay slurry and pulp waste liquid.
Features:
Resistant to pH change

Non-flammable & harmless in nature

Sensitive to sunlight
CAS Number: 26062-79-3
Chemical name: Poly-diallyl dimethyl ammonium chloride
Features and Applications:
Specifications:

| | |
| --- | --- |
| Appearance | Neutral to Pale Brownish-yellow Fluid, Free from External Matter |
| Solid Content (120℃,2h) % | 19.0-21.0 |
| Viscosity (25℃) | 8000-13000 |
| PH | 5.0-8.0 |
Concentration and viscosity of solution can be customized according to customers' needs.
Package and Storage:
The product is packed 210kg net in plastic drum or 1100kg net in IBC.
Shelf life: 24 months
Contact Us
Head Office : Rm No. 1502, Yixing International Economic & Trade Building, 21 West Jiaoyu Road, Yixing, Jiangsu Sheng, 214200, China