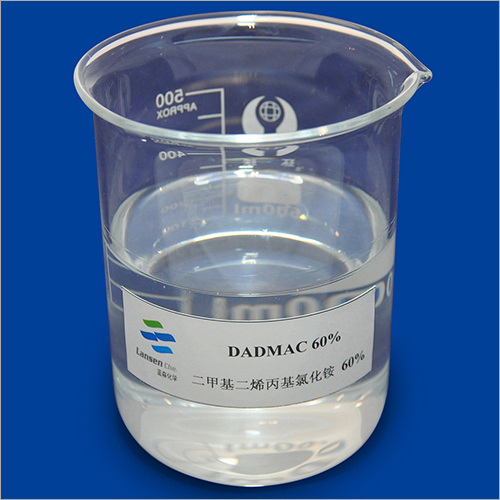 DADMAC Polymer 60%
Product Code : 01
Product Description
DADMAC Polymer 60% contains alkenyl double bonds in its molecular structure having the capability to form linear homopolymer & copolymers during polymerization reactions. Abbreviated for Diallyl dimethyl ammonium chloride, it can be used as AKD sizing promoter as retention & drainage agent, color fixing compound, and as a flocculate for wastewater treatment purpose. DADMAC Polymer 60% has the ability to form a thin coat on the fabric to improve its colorfastness. It can also be used as a clay stabilizer & acid fracturing cation in oilfields.
Features:
Also possesses neutralizing property

Has great conductivity of synthetic resins

Non toxic nature
Further Details:

CAS No.: 7398-69-8
Chemical Nomenclature: Diallyl Dimethyl Ammonium Chloride
DADMAC 60 is the trade name
Sub-atomic Formula: C8H16NCl
Highlights and Uses:
DADMAC (Diallyl Dimethyl Ammonium Chloride) is a quartet ammonia salt, it is solvent in fluid by any proportion, odorless and nontoxic. At different pH levels, it is steady, difficult to hydrolysis as well as not combustible.
As cationic monomer, our item can be co-polymerized or homo-polymerized with numerous other vinyl monomer, and prelude class of quartet ammonia salt to polymer. Further, its polymer may be utilized as prevalent free from formaldehyde color-settling substance and antistatic substance in the coloring and completing accessories for clothes as well as the AKD treating quickening agent and paper conductive substance in paper production added substances. Our DADMAC can be utilized as a part of the purification, decoloring and flocculation, it can additionally be utilized like a wetting agent, antistatic agent and shampoo brushing agent as well as clay stabilizer and the flocculating agent in oil-field.
Specifications:


| | |
| --- | --- |
| Appearance | Light yellow to colorless translucent fluid |
| Strong Content % | 59.0-61.0 |
| PH (1% liquid concentration) | 4.0-8.0 |
| APHA, Chroma | 50 max. |
| Sodium chloride in % | 3.0 max |
Packing and Storage:
10 tonne net in IBC or 2 tonne net in drum of plastic
It should be kept in a ventilated, cool and dark place, prevent high temperature and sunshine as well as ignore contact with solid material and oxidant like copper, aluminum and iron.
Timeframe of shelf usability is one year
Specifications:

| | |
| --- | --- |
| Product code | DADMAC 60 |
| Appearance | Colorless to light yellow transparent liquid |
| Solid Content % | 59.0-61.0 |
| PH (1% water solution) | 4.0-8.0 |
| Chroma, APHA | 50 max. |
| Sodium chloride % | 3.0 max |
Contact Us
Head Office : Rm No. 1502, Yixing International Economic & Trade Building, 21 West Jiaoyu Road, Yixing, Jiangsu Sheng, 214200, China