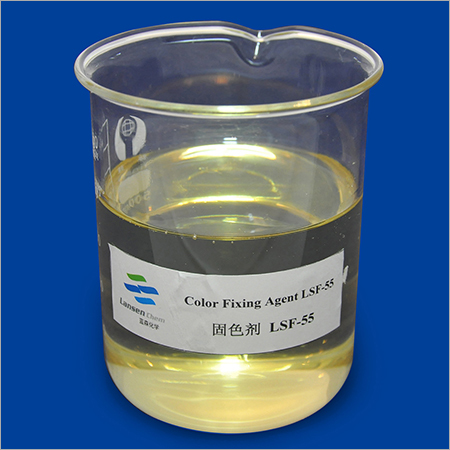 Color Fixing Agent LSF 55
Product Code : 22
Product Description
To improve the wet fastness of fabrics, Color Fixing Agent LSF 55 produces the insoluble lake with coloring agents with strong cross-linking bonds in between. It is a cationic chemical which is generally applied after dying of textile to improve wet fastness. This agent is highly admired as it does not affect the properties of coloring pigment. Color Fixing Agent LSF 55 finds its utilization in pulp & paper processing and cloth manufacturing industries. It appears as clear translucent liquid with some beneficial properties in the synthesis of staining products.
Features:
Formaldehyde free

Reduces bleeding of dyestuffs

Provides long term effects

Product name: Formaldehyde-free fixative LSF-55
Chemical composition: Cationic copolymer
Characteristics:
1.The active groups present in the molecules of LSF-55 enhance the fixing effect
2. Since it is free of formaldehyde, it is 1005 environmentally safe
Applications:
1.LSF-55 has the capability to drastically enhance the fastness to wet rubbing linked with the direct dye, reactive turquoise blue dye/printing material and reactive dyes.
2.It can drastically improve the fastness associated with laundering perspiration, crocking, ironing, soaping and light of the printing material/reactive dye.
3. The product in no way hinders or affects the brilliance of dyeing materials and the light reflected, which proves to be beneficial as far as synthesis of staining products is concerned, which should be in line with the standard sample.
Package and storage:
1. The product is available in plastic drums of the size 50kg, 125kg and 200kg.
2. It should ideally by stored in a dry and ventilated surrounding, and should not be exposed to direct sunshine
3.The shelf life of LSF-55 is approximately 12 months.
Contact Us
Head Office : Rm No. 1502, Yixing International Economic & Trade Building, 21 West Jiaoyu Road, Yixing, Jiangsu Sheng, 214200, China