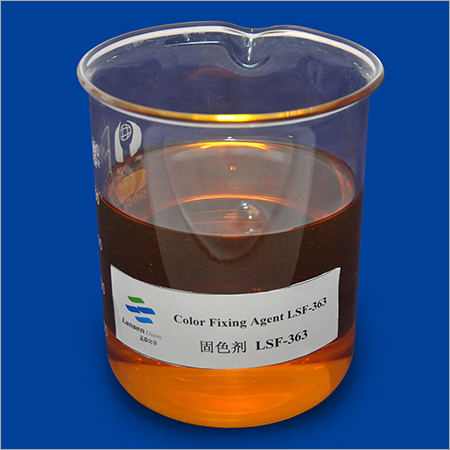 Color Fixing Agent LSF 363
Product Code : 23
Product Description
Having acidic pH range of 2 to 5, Color Fixing Agent LSF 363 is a light yellow colored liquid with cold water soluble nature. It is widely utilized in paper manufacturing and textile industries for color retention purpose. This chemical provides excellent wash & lightfast nature to different types of fabrics including cotton, silk, or nylon. It works by creating strong bond between dye & fiber molecules that possess water insoluble properties. Color Fixing Agent LSF 363 also enhances fastness to ironing, laundering perspiration, & soaping.
Features:
Sensitive to direct sunlight

It is a cationic polymer

Highly efficient
Product Name: Formaldehyde-free Fixative LSF-36
Chemical composition: Cationic Copolymer
As per the specific directions of customers, concentration and viscosity of the solution can be changed.
Applications:
LSF-363 has a direct impact in elevating the fastness as far as wet rubbing with the reactive turquoise blue, direct dye, dyeing/printing material and reactive dye is concerned.
As an added bonus, fastness to laundering perspiration, ironing, laundering perspiration, reactive dye, soaping, crocking and light of reactive dye or printing materials.
It has negligible to zero effect on the brilliance of colored light and dyeing materials, which proves to be of particular benefit in manufacturing staining products, as they should be as close in characteristics to the sample as possible.
Package and storage:
1. It is available in plastic drums in packaging options of 50kg, 125kg and 200kg respectively
2. Ideally, it should be kept in a dry and ventilated environ, with no possibility of direct exposure to sunlight
Contact Us
Head Office : Rm No. 1502, Yixing International Economic & Trade Building, 21 West Jiaoyu Road, Yixing, Jiangsu Sheng, 214200, China