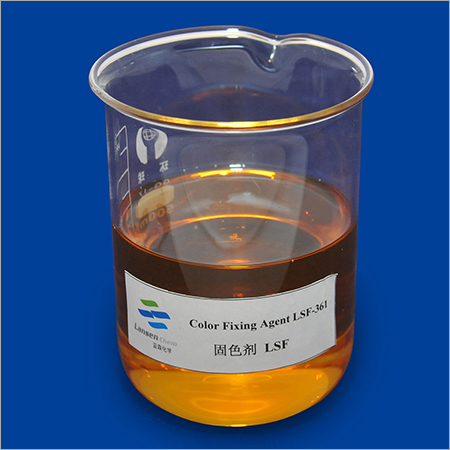 Color Fixing Agent LSF 361
Product Code : 24
Product Description
Color Fixing Agent LSF 361 is a cationic polymer which is produced by the reaction of polyfunctional amine having functional NH group with ammonium halide & a polycondensate forming cyano compound. It is used to improve color based properties of cloth and paper in terms of wash, soap, & scrubbing fastness. Color Fixing Agent LSF 361 forms ionic bond with the anionic molecules of dye & close water soluble groups to enhance wet fastness of cloth. It can be formulated using cetyl pyridinium chloride and sapamin type surface active agent.
Features:
Easily dissolved in water

Acidic in nature

Reduces bleeding of reactive prints
Product Name: Formaldehyde-free Fixative LSF-36
Chemical composition: cationic copolymer
Specification:
Appearance

Yellow to brown viscous liquid

Brown red viscous liquid

Solid content

49-51

59-61

Viscosity(cps, 25)

20000-40000

40000-100000

PH (1% Water Solution)

2-5

2-5

Solubility:

Soluble in cold water easily
Concentration and viscosity of solution can be customized according to customers needs.
Applications:

The product can enhance the fastness to wet rubbing of reactive dye, direct dye, reactive turquoise blue and dyeing or printing materials.

It can enhance the fastness to soaping, laundering perspiration, crocking, ironing and light of reactive dye or printing materials.
It has no influence on the brilliance of dyeing materials and colored light, which is propitious to the production of staining products in accurate accordance with the standard sample.
Package and storage:

The product is packed in 50kg or 125kg, 200kg net in plastic drum.

Keep in dry and ventilated place, away from direct sunshine .

Shelf life: 12 months.
Contact Us
Head Office : Rm No. 1502, Yixing International Economic & Trade Building, 21 West Jiaoyu Road, Yixing, Jiangsu Sheng, 214200, China