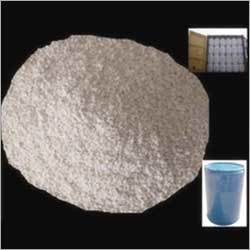 Calcium Hypochlorite 65% & 70%
Product Code : 09
Product Description
With a vision to be a market leader in our domain, we have been engaged in manufacturing of Calcium Hypochlorite 65% & 70%. It is utilized as a sanitizing and disinfecting agent for swimming pools & drinking water simultaneously. This compound is known to have chemical formula Ca(ClO)2 with molar mass of 142.98 g/mol. It is also considered as a bleaching agent for water treatment purpose. Calcium Hypochlorite 65% & 70% possesses oxidizing property due to which is also finds application remove glycols and keto acids.
Features:
Appears as white to gray colored powder

Has a melting point of 100 degree Celsius

Non flammable in nature
Calcium Hypochlorite 65% & 70%
Applications
A high-efficiency bleacher and disinfectant.

It can be used for bleaching cotton and hemp textiles, chemical fiber, paper pulp and amylum. It is also used in industrial waste water treatment, sanitation & epidemic

prevention and household sanitation facilities, as well as for disinfection and sterilizationof swimming pools, potable water, vegetables, fishponds, sericiculture and ground etc.
Specification
Item

Quality Index

Excellence

First Class

Passed

Available chlorine (%) ≥

70.0

67.0

65.0

Granularity(14mesh-50mesh) ≥

90.0

87.0

87.0

Water (%)

5.5-10
Packing, Transportation and Storage
According to the regulation of GB190, the product should be packed in plastic barrel, each with a net weight of 40kg or 45kg.

It should be stored in a cool, well-ventilated and dry warehouse separated from organics, acids, oils and reducing agents, and far away from heat source and flame source.

It should be protected against rain and sunlight during transportation, and gently handled to avoid bumping and rolling during loading/unloading.

In the event of fire, it can be disposed using water, sandy soil or CO2 extinguisher by firemen who wear gas masks.
Contact Us
Head Office : Rm No. 1502, Yixing International Economic & Trade Building, 21 West Jiaoyu Road, Yixing, Jiangsu Sheng, 214200, China