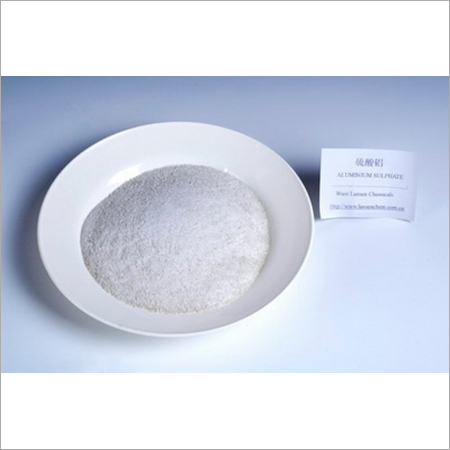 Aluminum Sulphate
Product Code : 05
Product Description
Aluminum Sulphate is widely used in water purification process for removing contamination, suspended solids, and biological agents from it. It also finds its use as a mordant in dyeing and textile printing industries. This compound can be synthesized by adding aluminum hydroxide in sulfuric acid or by heating aluminum metal in H2SO4. During wastewater treatment, Aluminum Sulphate works by coagulating suspended impurities into large particles and settling them to the bottom of container for easy elimination.
Features:
Water soluble nature

Can also be used as an effective molluscicide

Appears as white crystalline solid having hygroscopic nature
Product name: ALUMINUM SULPHATE
Molecular Formula: Al2 (SO4)3H2O
Basic Characteristics: Including anhydrous and hydrous (18 crystal water) type. Usually, the crystal separated out from aqueous solution at the normal temperature is Al 2 (SO 4) 3 .18H 2 O; when weathering, the average molecular structure is Al 2 (SO 4 ) 3 .14H 2 O, may appear off-white powder, or grayish flake, odorless, to change the taste from sweetness to slight astringency.
Use: This product can be used for drinking water, waste water, industrial use water treatment etc.
Standard: HG2225-2001
Technical Specifications:
| | |
| --- | --- |
| Item | Standard |
| Form | Offwhite or greyish flake or granular, powder |
| Aluminium Oxide (Al2O3) , % | 15.6-16.0 |
| Fe % ≤ | 0.5 |
| PH % ≥ | 3.0 |
| Water-Insoluble matters % ≤ | 0.15 |
Package: 50kg or 25kg net in woven bag or according to customers' requirement.
Contact Us
Head Office : Rm No. 1502, Yixing International Economic & Trade Building, 21 West Jiaoyu Road, Yixing, Jiangsu Sheng, 214200, China