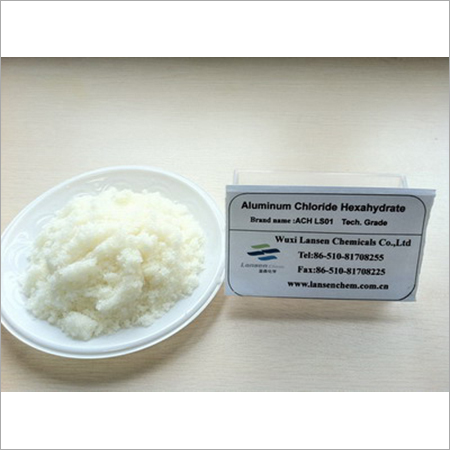 Aluminum Chloride Hexahydrate LS01
Product Code : 04
Product Description
Aluminum Chloride Hexahydrate LS01 has chemical formula AlCl3H12O6 with the molecular weight of 241.422 g/mol. It has an octahedral molecular geometry having 6 water ligand molecules surrounding aluminum ion. This compound finds its use for numerous applications including leather making, paper processing, printing, dyeing, and in petroleum industry. Aluminum Chloride Hexahydrate LS01 is white to pale yellow colored solid which is soluble in HCl, chloroform, and carbon tetrachloride. In its low concentration, it is known to be an effective ingredient in antiperspirants.
Features:
Can donate & accept 6 hydrogen bonds

Can also be used as a fireproof material

Hygroscopic nature
Further Details:
CAS NO.: 7784-13-6
Molecular Structure & Formula: AlCl3·6H2O=241.43
Synonyms: Aluminum chloride hexahydrate; Aluminum trichloride crystal
Technical Specification:
| | |
| --- | --- |
| Item | Index |
| Assay | 95.5% min. |
| Appearance | Off white or light yellow crystal |
| %Aluminum(Al3+) | 10.60-11.20% |
| % Chloride (Cl-) | 41.90 – 44.20% |
| PH(15%,aqueous) | 2.20-3.80 |
| Iron (Fe) (ppm) | 100 ppm Maximum |
Use:
Aluminum chloride LS01 is used for founding, paper making, leather-making, water treatment, fireproof material, printing or dyeing and petroleum industry.
Storage & Handling:
LS01 should be stored in a cool, dry and clean area. The package should be tightly sealed when not in use.
Shelf life: 12 months.
Packaging:
LS01 is packed in25kg or 40kg woven bag with polyethylene liners.
Contact Us
Head Office : Rm No. 1502, Yixing International Economic & Trade Building, 21 West Jiaoyu Road, Yixing, Jiangsu Sheng, 214200, China