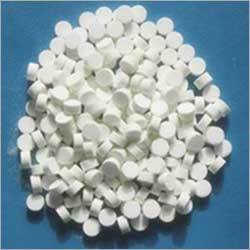 1 Bromo 3 Chloro 5, 5 Dimethyl Hydantoin
Product Code : 18
Product Description
We are becoming as one of the trusted manufacturers and exporters of 1 Bromo 3 Chloro 5, 5 Dimethyl Hydantoin. It is considered as an excellent source of chlorine and bromine, making it a choice of compound for water disinfection. Abbreviated as BCDMH, this chemical is utilized for sterilizing recreational water and for the purification of drinking water. 1 Bromo 3 Chloro 5, 5 Dimethyl Hydantoin works by releasing hypochlorous and hypobromous acids by slowly reacting with water.
Features:
Appears as white colored solid

Insoluble in water

Has slight bromine & acetone like odor
1 Bromo 3 Chloro 5, 5 Dimethyl Hydantoin
Specification:
| | |
| --- | --- |
| Items | Index |
| Appearance | white or whitelike crystal powder |
| Purity | 96%min |
| Bromo content | 35.5% +/3.5% |
| Chloro content | 12.5% +/2.5% |
| Melting Point | 158~164 |
| drying loss | 1.0 %max |
instant or slowreleasing glanular:

8~40 mesh

instant or slowreleasing tablet:

20g 200kg etc.
Usage: It is an oxidant type disinfecting agent that comes with an advantage of bromo and chloro. It has light odor, high stabilization, slow release, and long efficiency. It finds application in:
Sterilization for tap water and swimming pool water
Sterilization for water to be used for industrial applications
Sterilization for aquaculture
Sterilization of environment for healthcare center, hotel, resort and other public places.
Package: It is packed in non poisonous plastic sealed bag, which is then further packed in paple plastic multiple bag or cardboard barrel. we can provide this product in 25Kg or 50Kg net or pack size required by customer.
Transportation: It requires careful handling, preventing it from solarization and drench. Just like other chemicals, it can be transported, but cannot be blended with other poisonous stuff.
Storage: It is recommended to keep this chemical in cool and dry area and avoid putting it together with injurant, as it can cause pollution. This chemical comes with a validity of two years.


Contact Us
Head Office : Rm No. 1502, Yixing International Economic & Trade Building, 21 West Jiaoyu Road, Yixing, Jiangsu Sheng, 214200, China